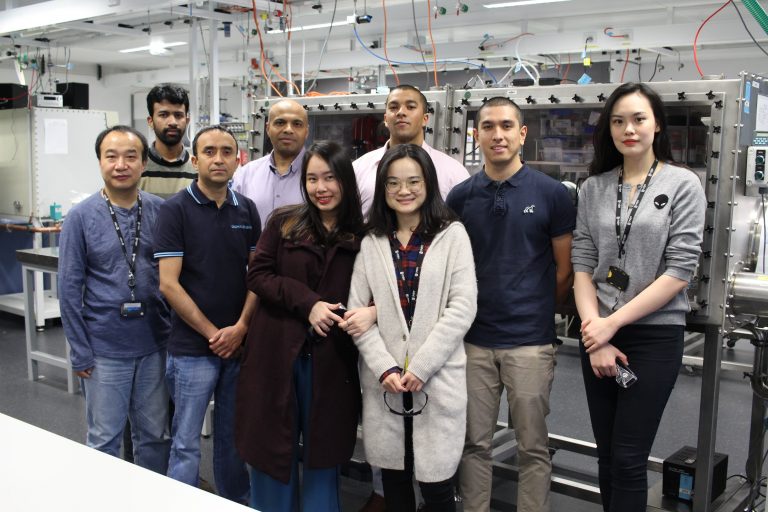 At Merlin, our core expertise is in the synthesis, characterisation and application of nanosized hydride materials, i.e. materials such as magnesium hydride (MgH2) and lithium borohydride (LiBH4) capable of storing hydrogen. Our research is focused on the fundamental understanding of the behavior of hydride materials at the nanoscale (i.e. with a particle size below 10 nm). Our focus is based on optimising materials to store hydrogen in an efficient manner, so as to distribute this energy during times of intermittent renewable supply and facilitate a greater penetration of renewable hydrogen.
Our aim is to deliver a first generation of room temperature hydrogen storage materials with a reversible hydrogen storage capacity of 8 mass % in the next 10 years.
We also research alternative materials and processes to facilitate the emergence of cost effective electrolysers, fuel cells and direct hydrogen combustion methods to facilitate the use of our hydrogen storage technologies.
With this research, we can contribute to transitioning society to efficiently power homes and industries, appliances, and transportation with hydrogen and zero harmful emissions. Our team consists of engineers, researchers, and postgraduates who also collaborate with many national and international research groups.
NaBH4 can now reversibly store hydrogen!
When hydrogen is used as an energy source, the sole emission is pure water, making it a very clean alternative to our current method of extracting and burning fossil fuels to produce energy. 
The main problem with using hydrogen is figuring out a means to store it in a practical manner. Our team has developed methods that allow sodium borohydride (NaBH4) to reversibly store hydrogen. This means that hydrogen can be absorbed by NaBH4 and then through applying a certain temperature, the hydrogen can then be released, ultimately producing sustainable and reliable energy.